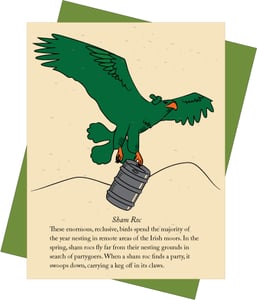 $

3.00
Send a reminder of the true meaning of St. Patrick's Day with this original 4.25" by 5.5" folded card.
Printed on Gmund Bier Paper, Lager (a recycled paper which contains beer making ingredients and old beer labels).
Comes with French Paper Pop-tone, Gumdrop Green envelope.
Front reads:
Sham Roc
These enormous, reclusive, birds spend the majority of the year nesting in remote areas of the Irish moors. In the spring, sham rocs fly far from their nesting grounds in search of partygoers. When a sham roc finds a party, it swoops down, carrying a keg off in its claws.
Note: Image is only an approximation, colors may vary in printed card.